The Need to Think beyond Powerpoint
The Need to Think beyond PowerpointThe fact that information is available does not automatically mean that it is also used, shared, or understood. Therefore the effective transfer of knowledge is becoming a key-challenge in today's organizations. Communication has to do with inspiring and convincing people. To do so, fresh unexpected visualization can help.Today, in business the amount of information is growing rapidly. It results in various problems, such as information overload, increased complexity, and multiple involved stakeholders: While the amount of information is increasing, the general quality of the provided information is decreasing. At the same time, the contents are becoming more complex, abstract, and interrelated. And these more complex contents need to be transferred to different stakeholders with varying backgrounds and needs. In general, individuals can only understand something, if they can connect it to something they already know. Therefore knowing and addressing the individual contexts is a key success factor.
Today, in business mainly text and numbers are used. Rarely visual formats. And if, then only a very limited set of visualization techniques are being used, such as business diagrams, clip arts, or programs such as Microsoft Power Point, Excel or Visio.
On the other hand there exist endless visualization techniques, research fields, and creative individuals who constantly contribute new visual approaches. However, often the proposed techniques are not linked to an actual problem in organizations. That's why a lot of excellent ideas do no find their way into organizations.
When it comes to the need of effective communication we have to think beyond PowerPoint.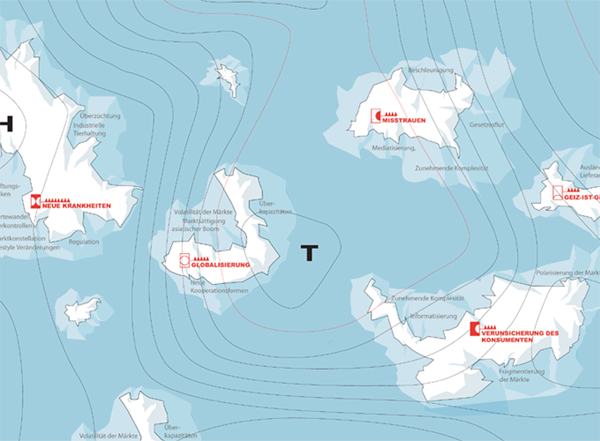 Visual representations help for various functions: (1) to address emotions, (2) to illustrate relations, (3) to discover trends, patterns, or outliers, (4) to get and keep the attention of recipients, (5) to support remembrance and recall, (6) to present both overview and detail, (7) to facilitate learning, (8) to coordinate individuals, (9) to motivate people and to establish a mutual story, or (10) to energize people and initiate actions.
And these functions are very important in business. That's why visualization is very important in business.
Last modified: Wednesday, 31 January 2007, 1:54 AM